Unleash People Insights for Business Impact
Data-Powered Insights for Growth-Minded Leaders
Receive AI-Powered, Targeted Action Plans
Experience the ease of making the right decisions. atwork delivers AI-driven action recommendations fine-tuned to your business goals.
Tap into employee feedback to understand the status quo of your employee well-being and organizational effectiveness.
Choose the personalized, science-based survey that fits the objective you want to achieve.
The most powerful survey to assess employee well-being and organizational effectiveness. Receive a complete, science-based overview of key HR metrics and how they are influencing key business metrics, and hence, your success
Check workforce sentiment and effectiveness on a specific topic and/or launch action deep dives into specific areas identified by the Health Check.
Create easy to use, customized surveys according to your specific needs. Gather feedback on an event and a workshop, for example.
Based on data collected, the atwork Suite creates customized and fully automated action plans considering identified action areas and company characteristics to deliver on desired objectives, driving your success. With the help of science-based frameworks and generative AI, atwork performs descriptive, predictive, and prescriptive analytics. Track your progress and receive tangible support to take action directly in the atwork Suite. atwork supports your success.
atwork enables comprehensive before-and-after impact analyses of actions taken. In the near future, impact analyses will be expanded to include selected external data sources that directly show the business impact and thus quantify the relationship between HR and business metrics for clients. Your success becomes plannable.
What our clients say about us
Our customers fully unlock the power of HR analytics with the atwork Suite.
"The flexible and uncomplicated cooperation with atwork is fun. With great commitment, they take up our requests and individual needs and implement them quickly."
"What I appreciate about the cooperation is the friendly and helpful contact. All requests are quickly and well implemented. We always have the impression that the interests of our company and our target group are prioritized."
Much more than surveys & people analytics
The atwork Suite gets you the advice you need
Professional organizational psychologists and HR consultants will help you map out customized strategies to achieve your business goals. You can focus on what matters most: growing your business and achieving your goals.
Confidentiality and anonymity guaranteed
atwork collects, stores, and anonymizes employee data. It protects employee privacy as all responses collected are completely anonymous. It complies with standard privacy regulations, such as GDPR.
Turn employee feedback into actionable insights
Make smarter, faster and data-driven decisions by using atwork's fully automated action recommendation engine driving your success. Make implementation a breeze, so you can start seeing results right away.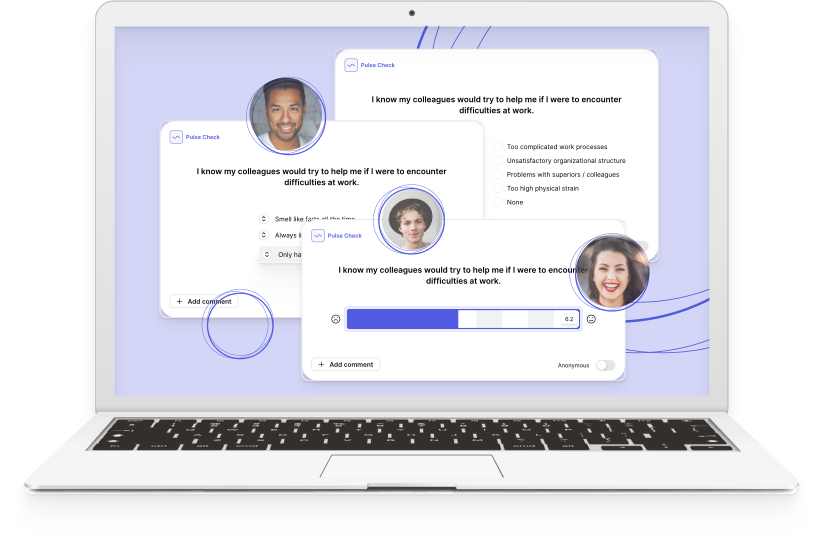 With the atwork Suite you can get the best of both worlds: the power of data-driven insights and the expertise of experienced psychology and HR consultants.